Gluten Free Bread with Herb Dipping Sauce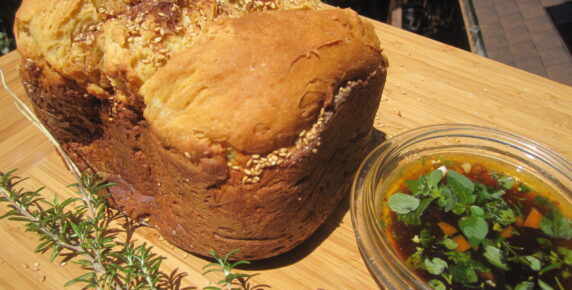 By Susan Gouveia
I love making fresh bread. The whole process is luxurious. My kitchen smells divine & baking it for guests is such a treat.  Lately, my body has seemed a bit more sensitive to products with gluten. Fortunately, we have options to wheat flours now. Garbanzo, brown rice, fava bean and potato flour are a few I have experimented with.  Some of my favorite ways to enjoy warm bread:  Fresh  butter  &  local honey or creating a "dipping" sauce filled with herbs & spices. Here are my original recipes. Try this
recipe, or purchase a gluten-free bread mix for your first time.
2 cups rice flour (brown or white)
1/2 cup potato starch
1/2 cup tapioca starch
2 1/2 teaspoons guar gum or xanthan gum
1 1/2 teaspoons salt
3 tablespoons sugar
1 packet dry yeast
1 2/3 cups warm milk
4 tablespoons of vegetable oil or  melted butter
1 teaspoon apple cider vinegar
2 eggs, room temperature
Optional
1/4 cup chopped fresh herbs & 4-6 roasted garlic cloves cut into quarters.
1 Tbsp of melted butter
Sesame seeds, cinnamon & sugar sprinkled on top, after bread has risen.
Directions:
Use the directions from your bread maker. Each one is different.
Mix eggs, milk, melted butter, vinegar and put in bread maker pan
Mix dry ingredients & put in bread maker pan after wet items.
Sprinkle yeast over dry ingredients
Turn on bread maker. I use the "Quick Bread" option which is about 90 minutes.
Use spatula to scrape down sides & to make sure bread is kneading.
Melt Tbsp of butter & add garlic and herbs, Pour over bread that is still kneading.
Later, when bread has risen and has started to cook, open lid and sprinkle sesame seeds, cinnamon & sugar.
Herb Dipping Sauce
Olive oil
Balsamic vinegar
Maple syrup
Finely chopped herbs. I used garlic, oregano, sage, rosemary & chives
Salt, Pepper, cayenne
Pour equal amounts of  olive oil, balsamic & add maple syrup for desired sweetness.
Add your choice of minced herbs. Season to taste. Place in a bowl or dish next to bread. Have a spoon handy to mix sauce up & spoon on bread. Please let me know how it turns out!