Mole con Pollo
I have visited various regions of Mexico &  have observed different styles of Mole preparation. I created a recipe omitting some commonly used ingredients- like lard, stale French bread &  flour  used to thicken the mole salsa. Instead, I relied on the use of  this overlooked dried fruit..the " pasa de uva " or dried grape (raisin). Most of the  herbs, spices & veggies are easily grown in my garden.  (Coriander,  cilantro, peppers (preserved by sun-drying), onion, garlic,oregano,thyme & sesame seeds…and my chickens- for eggs only!) It's a fun recipe to do with a partner or group. Enjoy!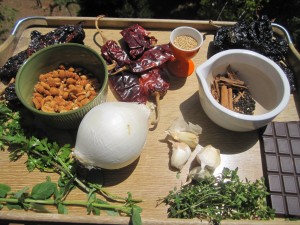 Prepping the ingredients for Mole!
Ingredients
Broth & Side Dishes:
1 whole chicken, cut into pieces
1 white onion, quartered
Sprigs of fresh oregano, cilantro & thyme
4-6 cloves of garlic- Smashed, skin comes off easy this way
Sea salt and peppercorns ( 1/2 tsp each)
Steamed white or Mexican rice
Corn tortillas on the side (optional)
Garnish:
Cilantro leaves
Toasted sesame seeds
Mole Salsa:
Approx 1 quart of  chicken stock (saved from poaching the chicken)
5 dried mulato chiles
6  pasilla chiles
6 dried ancho chiles
Coconut or  vegetable oil on hand
1/2 a white onion
4 garlic cloves
4 tablespoons raisins
1/3 cup of shelled pepitas, almonds or  peanuts (I prefer peanuts)
2 corn tortillas, torn into pieces
2 ounces of  organic, dark 85% chocolate
Mortar & Pestle Action!  Awaken the senses by pounding & grinding these spices together. This is one of the best parts!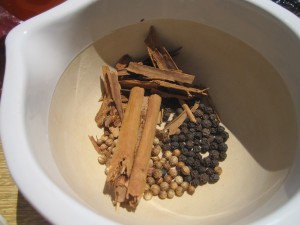 5 whole cloves
15 whole black peppercorns
1/2  piece of a cinnamon stick
1/4 teaspoon anise seeds
1/2 teaspoon coriander seeds
4 tablespoons sesame seeds
Directions:
In a large pot, place the chicken, onion, oregano, cilantro, garlic, thyme, peppercorns &  salt. Cover with approx 2 inches of water & bring to boil. Lower heat & simmer until chicken is cooked-approx 20-30 minutes. Skim any gooey foam that rises. Strain the stock &  reserve for dish. Set chicken aside.
In a large skillet, toast all chiles for 1-2 minutes in a bit of coconut or vegetable  oil. Remove & place  in food processor or blender and cover with enough hot stock for creating your mole. Add the raisins.  LET STAND for 20 minutes. Leave room for rest of ingredients.
In the same skillet, add a Tbsp of oil. Over high heat add sesame seeds and peanuts. Toast 2-3 minutes. Add to blender.  Add another Tbsp oil &  sauté  the white onion & garlic until soft & golden-about 3-5 minutes. Add all your spices from mortar & pestle and stir. Cook for 2 more minutes. Add to blender.  Turn heat to med-high & add tortilla pieces. Cook for 1-2 minutes until brown. Add to blender and turn it on low-medium. Add enough of the stock  to blend into a  paste.
Add approx 1 Tbsp of oil  to the skillet and pour blended paste into it. Simmer & stir for a few minutes to blend flavors. Add approx 2 cups of the remaining stock and bring to a boil. Reduce heat and add the chocolate until melted &  salt to taste. Add the cooked  chicken and cook for approx 10 more minutes. Remove from heat & adjust the flavor based on your taste buds. Perhaps a bit more salt, spice or sweetness?
To Serve:
Serve  with rice. Garnish with sesame seeds & cilantro. Enjoy! If there are any leftovers, freezing works really well. Please let me know how it works out and send me photos!   [email protected]