Cavolo Nero in Umido (Kale Simmered in Broth)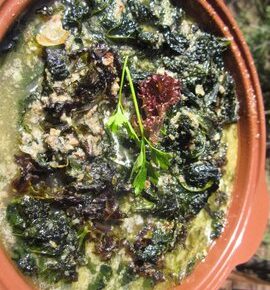 In Italy, lots of  simmering & stirring is involved in cooking.  You can feel  the love
and attention that goes into the dishes.
This is one of my favorite ways to enjoy  kale -simmered in a broth until
tender  & rich in flavor. The kitchen will smell amazing!  Demo video can be seen
on our  YouTube Channel
Cavolo Nero in Umido (Kale simmered in broth)
From Umbria, Italy
3 bunches of kale, about 3 lbs

1 medium red onion

4 oz pancetta/prosciutto or bacon

5 Tbsp butter

2 Tbsp olive oil

2 cups chicken broth

Salt/Pepper to taste.
 Wash kale and remove the large stems. Cut leaves into 1 inch pieces & soak in cold water for 30 min. Finely chop onion & cut prosciutto into small pieces. Heat 4 Tbsp butter & oil over medium heat. Sautee onion & prosciutto for 5 minutes. When onions are translucent, add the broth & simmer for about 10-15 minutes. Salt / pepper to taste. Take off heat & mix with hand blender or food mill. Add the kale and cook for 15-20 minutes. Put into serving dish & add the remaining 1 Tbsp of butter. Serve immediately.