Hemp Seed Sliders with Basil Lemon Sauce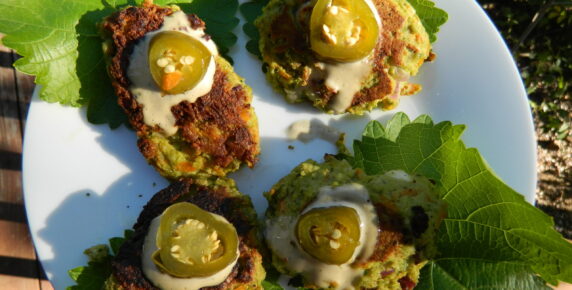 Incorporating hemp seed into your dishes  is a great way to add Omega-3 & Omega-6. In addition, it's another great source of protein and essential amino acids. My son sampled this at a local store  and loves the nutty flavor. He prefers eating it raw, while I enjoy creating these fun sliders. Today, I chose grape leaves to wrap them in since I was out of bread. Topped them off with a slice of jalapeno & special sauce that my friend Nicole shared with me. Make ahead of time and pop in the oven for a great appetizer. Enjoy!
 Hemp Sliders
Modified recipe from Bob's Red Mill. Makes 10- 20 burgers.
 1 lb of tofu
1 cup hulled hemp seed (Bob's Red Mill)
1/4 cup sunflower seeds
3 green onions, chopped
2 Tbsp soy sauce
2 Tbsp nutritional yeast
4 fresh basil leaves
3 cups herb seasoned stuffing
1/3 cup shredded yam, carrot or zucchini (optional)
In a food processor, blend tofu. Add the rest of ingredients except the stuffing & blend until smooth. Put stuffing in a bowl and pour tofu mixture on top. Mix thoroughly. Form into small patties and bake on well greased cookie sheet for 8-10 minutes at 325 degrees. Flip burger  patties  and continue for another 8-10 minutes until cooked through.
 Nicole Schug's Tangy  Basil Lemon Sauce
I had this delicious sauce at Nicole's BBQ.  Great way to incorporate extra  basil. Use on these sliders, salad, grilled chicken or tofu.
In a blender mix until smooth:
1 cup lightly packed fresh basil
1 large garlic clove
1 teaspoon lemon peel
1/4 cup lemon juice
3/4 teaspoon salt and 1/2 teaspoon pepper
 Next, gradually blend in:
1/3 cup olive oil until smooth & creamy
Have you ever utilized hemp seed in your recipes? Let us know!