Flax Seed Crackers with Herbs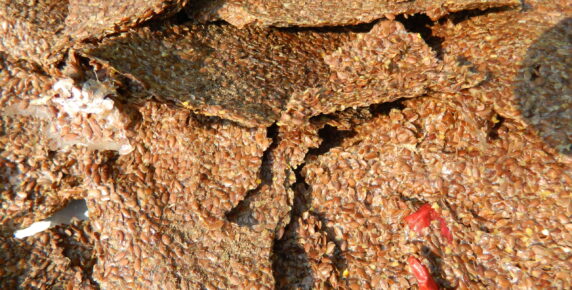 Easy, filling & they save my butt in between raw food prep time! Kids love them, too. My favorite way to eat them is with my Pumpkin Seed Herb Cheese, Yam & Cashew Dip or Raw Curry Hummus. Do you have a favorite recipe for Flax Seed Crackers? Go ahead and add it to the "Comments". Thanks!
 Ingredients:
2 cups whole flaxseeds
1 Tbsp. sesame seeds (optional)
Approx 2 cups water
1/4 cup tamari or  Braggs Liquid Aminos
Sea salt to taste
2 tbsp fresh minced herbs (optional)
For a spicier  version, I added diced cayenne
Preparation:
In a food processor, add the  flax & sesame seeds and cover with water. Allow to soak for a minimum of 30 minutes. The mixture will change into  a gelatinous mass. Check the mixture, and add more water if needed. You want the mixture to be gooey, but not runny, and not too thick.
Add the rest of the ingredients to mixture in the food processor & get creative by adding your own. Blend in food processor so about 1/2 the seeds are chopped up. It's nice to have some seeds whole & some not.
Spread mixture 1/8 thick on stainless steel baking sheets lined with parchment paper. Set in sun and cover with cheesecloth to keep the bugs out. To speed up drying time, I sometimes flip over the crackers after  4+ hours. If using a dehydrator, set for about 110 degrees & dehydrate for 4-6 hours until desired crispness. Enjoy and please let me know your results & what creative alternatives you have used.