My Top 5 Marigold Tips & Inspiration & Recipe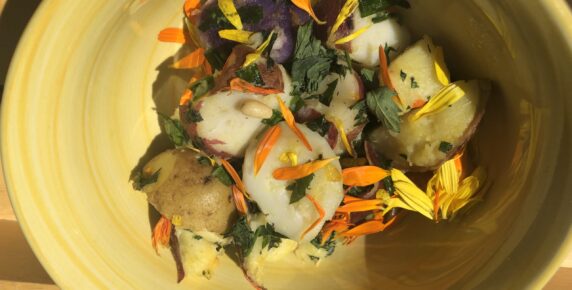 The Marigold plant is so beneficial and nutritious and comes in a variety of beautiful colors!
For more inspiration and ideas on Marigolds, click here.
Disclaimer: Research everything that is stated here.  This blog is for entertainment and inspiration!
My 5 Top Tips for Marigolds Plus a Marigold Salad Recipe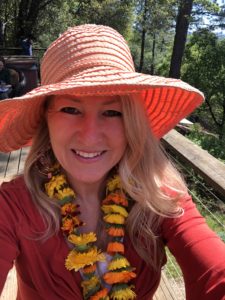 In the Garden! Plant in your garden beds. Studies show they may provide great pest control. They attracts bee and hummingbirds and other pollinators.
In the Kitchen! They have a warm, sweet & spicy scent! A great way to flavor salads, custards, eggs & more! (see recipe below)
Visually Pleasing! Sprinkle blossoms on pizza, pasta & other dishes that can use a punch of color.
Healthy! Studies show they may lower inflammation & have antioxidant properties. You can make a tea from the flower and drink it for:
Digestion
Inflammation
Urinary Track Infections
Canker sores
Hemorrhoids
Skin irritations like diaper rash and jock itch!
Pink eye
Athletes foot
Itchy scalp
Flea bites
Arts & Crafts! Make a necklace by sewing the flowers together. Refreshing for the mind, body & spirit.
I recommend this book called, Gardening with Herbs for Flavor & Fragrance, by Helen Morgenthau Fox which includes some great tips for Marigolds.
Warm Potato Salad with Marigold Leaves
1.5 lbs of small  potatoes
1/2 c fresh parsley finely chopped
1/2 c marigold leaves whole
1/4 c olive oil
1/4 c fresh lemon juice or red wine vinegar
1 tsp lemon zest
1 T of marigold blossoms for garnish
Clean potatoes and remove any "eyes: or black spots.
Place in a pot full of boiling water w 1 T good salt.
Bring to a simmer for 20 minutes until potatoes are tender.
Remove and rinse in cold water.
Place potatoes in bowl and toss with remaining ingredients. Serve warm!
Photo credits: Instagram:  gv_photography & gouveia.susan