Spanish Garlic Soup (Sopa de Ajo) with Herbs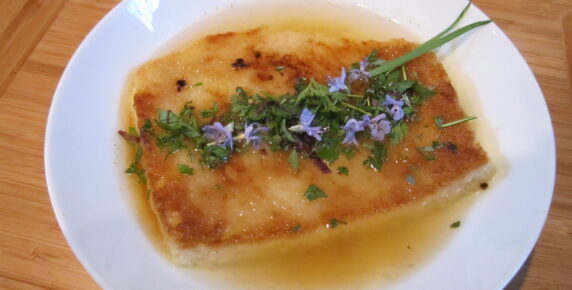 By Susan Gouveia
My favorite  things to grow are garlic & herbs. Here is a recipe that I adopted while
 living in Spain. I served this at my first Garden Goddess Dinner.
4 slices of bread, crusts cut off
2 cloves of garlic
1 Tb olive oil
2 Tb butter
6 cups of water
6 tsp chicken base
1 tsp paprika
salt to taste
1/4 c of fresh chopped herbs. In winter, I use sorrel,  sage, thyme, mint, parsley,  garlic greens, onion tops & rosemary blossoms for garnish. Use your preferred portions of each.
Heat water & mix in chicken base. Add paprika & 1Tb of the herbs. Simmer for 5 minutes.  Press garlic and lightly spread on the 4 pieces of bread. In a  frying pan, heat oil and butter. Fry bread, on each side, until golden. Put bread slices in 4 bowls. Pour heated stock over the bread. Garnish with the rest of the herbs. Serves 4.