Fresh Garden Mint & Raw Cacao Tarts by Eva Tobie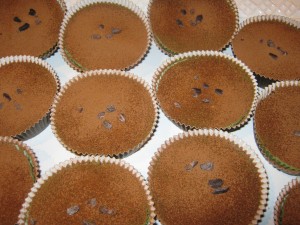 Eva Tobie's Fresh Garden Mint & Raw Cacao Tarts were amazing. She took 2nd place in the Raw Food Contest- "Eddie's Choice Award".
Thank you, Eva, for sharing this recipe. She has more recipes at http://www.RawCulinaryWisdom.com
For the crust:
1 cup almonds soaked and dehydrated
1/2 cup Majool dates pitted
1/4 cup excellent quality raw powered cacao
1/2 vanilla pod split and scraped (save outside pod for making vanilla extract)
1 tiny pinch of sea salt
Pulse in a food processor until almonds are broken down into a coarse crumble and add a tablespoon of water to help to bind. Spread heaping tablespoon into  4 inch tarts and press down lightly,
For the filling:
1.5 cups of fresh garden mint- chocolate mint or spearmint. Clean mint well and spin dry and remove all stems.
1.5 cups cashews soaked overnight in the fridge in filtered water
1 cup filtered water
16 drops of vanilla Stevia
6 drops peppermint oil
3 tablespoons cacao butter melted
2 tablespoons coconut butter melted
1 pinch of sea salt
In a high speed blender add the mint, water and drained cashews along with the Stevia and salt. Blend until smooth. With the blender running on low, slowly add the melted cacao butter & coconut butter till just incorporated. Pour IMMEDIATELY into crusted tart pans and lightly tap until mixture is smooth. Dust lightly though a fine strainer a mixture of cacao powder and carob powder and add a few cacao nibs to garnish. Can be kept frozen in an airtight container for weeks! Or keep well chilled for 6-8 hours before serving.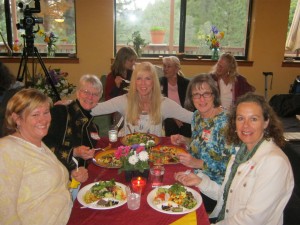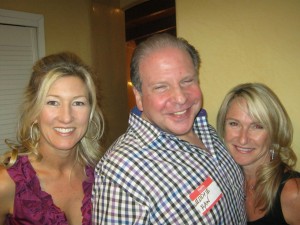 Thank you, Eddie Brill (http://www.EddieBrill.com ), for celebrating Raw Food with the Garden Goddesses!