Mary Marlet's Raw Nori Rolls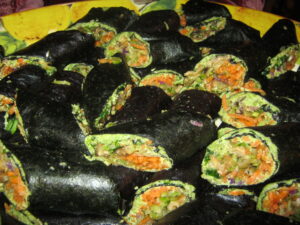 This recipe, as typical with most raw dishes, has several different steps and components to it.
Makes 16 pieces
Ingredients:
For marinated mushrooms:
4 cups thinly sliced mushrooms, shitake, Portobello, or combo
1 Bunch scallions, thinly sliced
3 tblsp. Olive
oil
3 tblsp.  Tamari
2 tblsp.  Umeboshi plum vinegar, or raw apple cider vinegar
1 clove garlic, minced
Pinch pink sea salt
 Cashew Spread:
2 ½ cups raw cashews
2 tbsp. fresh, finely grated ginger
1 clove garlic
handful  cilantro leaves
2 tblsp. White miso
¼ cup fresh lemon juice

 2 cups grated carrots, beets, broccoli, or choice of vegetables

Pea or radish sprouts

 4 Toasted Organic Nori Sheets
Steps 1 and 2:
Combine ingredients for marinade, add mushrooms, set aside for at least 30 minutes.
Soak cashews in water to cover for 30 minutes
While mushrooms and cashews are doing their thing, prepare other veggies.
For the spread:
Drain and rinse cashews and set aside.
Place cilantro, ginger, and garlic in food processor and finely chop . Add cashews and grind into fine meal. Add miso and lemon juice and blend into a smooth consistency, scraping sides of processor and adding a little water if needed.
 To assemble:
Have all components in an assembly line.
Place a sheet of nori with widest side in front of you, glossy side down, on cutting board. You can use a bamboo rolling mat for this.
Make a thin layer of the cashew spread on the nori leaving a 1 inch border at the farthest edge.
Place approximately ½ cup of the raw, grated vegetables along the front edge of the nori sheet. Sprinkle some of the marinated mushrooms over topping with a few sprouts.
Roll as tightly as possible, moistening the far edge to stick.
Put aside until all are assembled.
Slice each roll on the diagonal into 4 pieces.
Serve with a choice of dipping sauce if desired.  Personally, they have enough flavor and moisture on their own. Enjoy!