Peaches & Peppers: Part 1- Chicken Enchiladas with Chipotle & Peach Salsa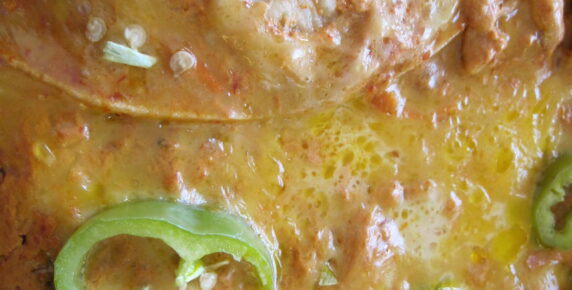 Original recipe by Susan Gouveia
I made this dish "casserole style" for the party.  But if you have the time, you can fry each individual tortilla, add filling & top with the sauce.  A vegetarian version is just as tasty-use butternut squash and potatoes. The chipotle peppers can be very spicy, so you may want to test!  
Chicken Enchiladas with Chipotle & Peach Salsa 
1 lb of organic ground chicken
1 red, white or yellow onion sliced
1-2 cloves garlic
1 c shredded cabbage
1/2 c grated carrots
1 and 1/2 c sweet, ripe peaches (save 1 cup for sauce)
2 Tbsp butter
1 Tbsp vegetable oil
salt, pepper, garlic powder
12 organic corn tortillas
7 oz can of chipotle peppers in adobo sauce
1/2 cup organic sour cream
1 c sweet peaches
2 Tbsp c real maple syrup
salt, pepper, garlic powder to taste
1/2-1 cup Grated cheese of your choice! I personally love goat cheese.
Melt butter/oil in large skillet & sauté onion, garlic, cabbage, carrots until tender. Add  1/2 cup of the peaches and cook for 2 more minutes. I hate doing dishes, so I try to cook chicken at the same time in same pan. I cook chicken on one side, veggies on other.
 Grease 9″ by 13 " pan with butter/coconut oil. Place 6 tortillas on bottom.
 Salsa/Sauce
Add  chipotle peppers, sour cream, 1 c peaches, maple syrup, salt, pepper & garlic powder to a bowl & blend with hand held mixer or blender. Mix 1/3 of this sauce with the chicken/veggie combo. Save the rest to put on top of dish.
Add cooked chicken / veggie combo  to the tortillas in 9×13 pan. Spread out mixture and add 6 more tortillas to the top. Top with rest of salsa (make sure tortillas are saturated with sauce). Add grated  cheese  of your choice & sliced peppers or cilantro for garnish. Bake, covered,  at 350 degrees for 20-25 minutes. Garnish with cilantro or parsley.