Raw Spicy Secret Sauce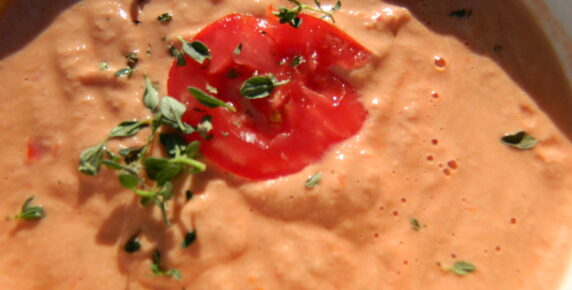 One of the challenges for me, while on a raw food diet, is the lack of mayonnaise. I know…gross! (I still have few  unhealthy food vices  that I  reach for.)  I needed something creamy to add to my tacos, salads & wraps. The Spicy Secret Sauce has been the perfect solution. Here is my version of it.
Spicy Secret Sauce by Susan Gouveia
1/3 cup of raw cashews, soaked for 8-12 hours & drained.
1 medium tomato
1/2 mild red  pepper, chopped
1 Serrano, Cayenne or Jalapeno pepper (adjust to your level of spiciness)
2 Tbsp of chopped onion
2 Tbsp of lemon juice
1 Tbsp of liquid aminos
1 Tbsp of flax seed to thicken
water or vegetable juice may be needed to get right consistency.
Blend all ingredients  in a food processor until creamy. Adjust spices. Have fun with this and let me know how you incorporate into your raw menu.